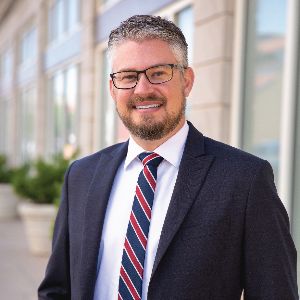 Jason Gregory
Executive Vice President, Downtown Wichita
jason@downtownwichita.org
As Executive Vice President, Jason is responsible for launching and guiding various initiatives leading the implementation of Project Downtown: The Master Plan for Wichita and the Downtown Wichita strategic business plan. He also provides key leadership for the Downtown Design Resource Center whose mission is to connect and engage individuals in the development of Wichita' center city.
Jason is a Wichita area native who has a diverse background in business, landscape architecture, urban design, project management and construction. He received a bachelor's degree in business administration from Friends University and a master's degree in landscape architecture from Kansas State University.
Jason is an elected School Board Member for USD 268 in Cheney and is involved with his local church. He also volunteers his time coaching numerous youth sports. He is a member of the International Downtown Association and Young Professionals of Wichita and is a member of the Wichita Parks Foundation Board of Directors.
Jason is married to Angie and they have three boys, Jack, Graham and Emmet.