"No Weddings and a Funeral"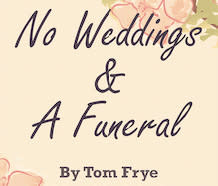 "No Weddings and a Funeral"
May 26 TBA
The lives of sisters, Effie & Sophia, change instantly when they learn they have inherited 500 acres of prime property in Derby from their late uncle. However, Sophia's evil son, Booley, learns of their great fortune and can't help but return home and claim it for his own. Now it's up to Effie's son, Dooley, to stop him! Don't miss this evening of sight gags, one-liners, and a high stakes gun battle.