Spirited Shopping Experience
Make the most of holiday shopping this year by spending quality time with your best shopping partners. Kick off the day with brunch at Doo Dah Diner, where each unique recipe is made from scratch and designed to make your brunch dreams come true. Try the chef's daily special for a twist on the traditional or stick to the menu for comfort food extraordinaire. Warm up over a plate of famous banana bread French toast and a cup of coffee while sharing your favorite holiday memories.
Afterwards, find home décor galore at three unique shops in downtown – Urban Interiors, Mr. Diggs Dwelling Co. and Uniquities. Each local shop showcases stunning home furniture and décor that is sure to steal the spotlight in any setting. Find unique gifts for friends and family or peruse for your own home as you shop 'til you drop.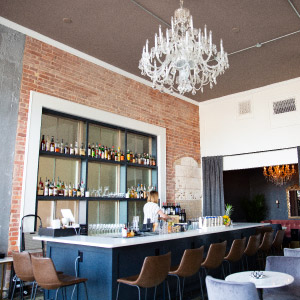 Once you've checked every name off your Christmas shopping list, make your way to your final stop of the day. Located in the historic, art-deco style Petroleum Building you'll discover two local gems – Handpicked Los Angeles and Cana Wine & Cocktails.

At Handpicked Los Angeles, discover the perfect holiday party dress for a casual get together or an elegant evening out. The pieces are hand selected and are as original as your own personal style.
One door over you'll find Cana Wine & Cocktails. Adorned by a gorgeous chandelier and filled with natural light, this wine and cocktail lounge is led by a local sommelier. Raise a glass with your friends to a day well spent and memories made!
Participate in this experience to win a $100 gift card to Pinot's Palette where you can sip wine and paint a magical winter scene. You'll also win a $150 gift card to Lucinda's in Old Town, where you'll find jewelery, apparel, books and Wichita inspired items to show off your local pride.